NEW GATES TRIO asked me for a sonic post card – and here you can hear my DAILY SONIC POSTCARD 1–4. Thanks to Aurélie Saraf, Matteo Cesari, Maxime Desert! It was a pleasure to write this for this amazing trio. In the the internet–version we did even a DAILY SONIC AND VISUAL POSTCARD – hear and watch! 
July 13th, 2020– France Music
---
ICONOSONIC BEETHOVEN
… a text on my music – especially on FIGURE – iconosonics 1 – in the light of Beethoven just out now – the exibition open end of september, concerts with my music during october 2020 (tba).
in:  "Beethoven Moves" – catalogue to the exhibition, Kunsthistorisches Museum Wien
Hatje und Cantz 2020. 224 pp., 220 ills., Hardcover
ISBN 978-3-7757-4749-3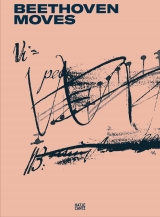 You can now find Clemens Gadenstätter's music on ===> Soundcloud!